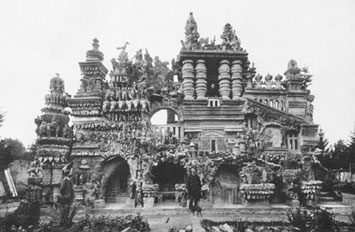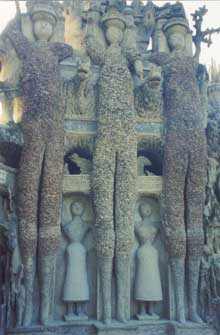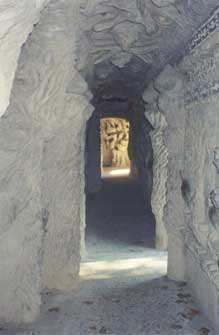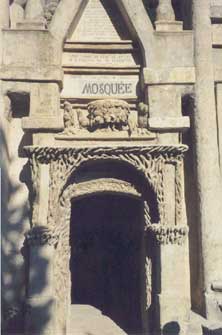 1. FERDINAND CHEVAL - The Ideal Palace

In a small village called Hauterives, south of Lyons in central France.

Built single-handedly over a period of 33 years beginning in 1879, by country postman Ferdinand Cheval, The Ideal Palace is one of the world's most astonishing visionary structures.

Cheval dreamed of a wondrous palace, but was not a builder, so he built nothing. One day out in the real world he noticed a strangely shaped stone, one so provocative that he brought it home with him. Soon his garden was full of unusual rocks and stones gathered on his 32 kilometre postal route, or later gathered on long walks he took with a wheelbarrow. The stones became his basic building material, bound together with cement and wire. In 1879, when he was 43 years old, he began to build.

"The distance from the dream to the reality is great;
I had never touched a mason's trowel and I was totally ignorant of the rules of architecture."

In spite of local ridicule, he stubbornly toiled at his dream creation, inventing ways to build as he progressed. He shaped by modeling and carving. He worked at night and in his spare time, and was aware that many thought him mad. It's backbreaking work requiring 3500 bags of lime and cement to build a concrete and stone palace of such size, 26 metres by 12 metres with heights varying from 8 to 11 metres.

What did he know? The 1878 Paris World's fair, his military service in Algeria, illustrations from popular magazines, the objects in the world around him and his dream.

So he created this amazing structure, covered with surface decoration, combining aspects of a Khmer temple, a mosque, a Hindu sanctuary, a feudal castle, a Swiss chalet and a manger. It consists of four facades, a 2nd level balcony, winding stairs leading up to a tower, and a hallway with vaults below that contain 2 empty stone coffins and a special shrine for his wheelbarrow.

In 1905 an article in "Le Matin" newspaper made Facteur Cheval and his work known to the entire French people, and his Ideal Palace became a popular tourist destination.

There are many inscriptions on the Palace including:

Everything you can see, passer-by
Is the work of one peasant
Who, out of a dream, created
The queen of the world.

And then, in 1912, he was finished. He stopped. This really amazed D. Earlier he had been saying over and over, "One guy!" Now he was saying, "And then he stopped!"

1879-1912.
10 thousand days
93 thousand hours
33 years of effort

Cheval's plan to use the Palace Ideal as his own tomb was apparently thwarted by local regulations. At the age of eighty, he began work on his own tomb in the local churchyard. He completed this final work 2 years before he died in 1924.

"should there exist a more determined man than myself, then let him set to work."